REAL ESTATE INVESTMENT OPPORTUNITY IN VICTORIA, BC
1717 FERNWOOD RD 6 RENTAL SUITES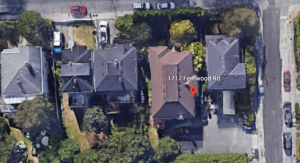 Turn of the century 1907 Fernwood home that was converted into a 6-suite apartments in 1982 ( building permit records). City of Victoria R1-B Zoning. Driveway easement off Grant Street.
The building is considered a 1 storey structure, sitting atop a partially below grade basement level. Each level includes 2 one-bedroom/one-bathroom suites and a bachelor suite. 
Go Here: to See 3D Virtual Tour  and Floor Plans
All suites include private exterior entrances with the main floor units accessed from the front of the structure with the basement units accessed from the side /rear. Suite #1 includes a secondary entrance at the rear via an external staircase and elevated wood deck.
 Laundry room with single washer and dryer and a utility room, both located on the basement level. 
Building size is approximately 1,642 square feet on the main floor and 1,614 square feet on the basement level.
Major upgrades are: -Suites 5 and 6 remodelled kitchens and flooring in 2017.-Suite 1 remodelled kitchen in 2017.-Suite 2 remodelled kitchen in 2019.-HWTs replaced in suites 1,2,5, and 6 in 2017.-
Exterior repaired stucco and repainted in 2021 ($19,000) 
Underground Oil Tank removed and report from Vic Fire Dept available.
The exterior walls are finished with painted stucco siding and the majority of windows have been replaced with double pane vinyl frame assemblies over the years. The roof is asphalt shingled and drainage is provided by gutters and downspouts.
Overall, the suites are in average to good condition with limited major renovations in recent years. Flooring is a mixture of mainly vinyl and carpet with some wood laminate. Cabinetry is wood laminate with vinyl countertops. The suites do not include dishwashers, although one of the tenants has brought in their own dishwasher. The quality of construction is considered average, typical for suite conversions in the Fernwood neighbourhood. 
Price: $1,550,000 (Estate Sale Probate complete)
Note: Sorry no Bully Offers.  E-mail your Offer by noon Tuesday March 8 include a written copy of a Buyer Mortgage pre approval at the price of their offer.. Leave Open for acceptance by the Estate March 9, 2022.
Please do not disturb the tenants, and come back here to watch the 3 D Matterhorn https://media.propermeasure.com/listing-preview/66772121 
REAL. ESTATE INVESTMENT OPPORTUNITY IN VICTORIA, BC