Victoria BC Homes for Sale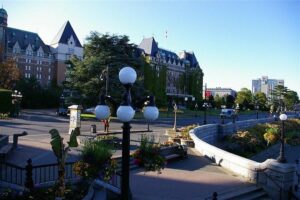 Ahhh… Beautiful Victoria British Columbia. There's nowhere quite like it. Along the shores of the Strait of Juan de Fuca at the southern tip of Vancouver Island, Victoria is home to about 390,000 residents, making it the 5th most populous city in Canada.
Named for Queen Victoria, it's the oldest city in the Pacific Northwest dating back to 1843 when the British settled the area. We are known as the "Garden City" because of our lush landscaping, Butchart Gardens, and the Empress Hotel draped in century-old ivy. Victoria attracts tourists from all over the world and is considered to be in the top twenty of world cities for quality of life.
The city has a large non-local student population, who come to attend the University of Victoria, Camosun College, Royal Roads University, the Victoria College of Art, the Sooke Schools International Programme and the Canadian College of Performing Arts
Whether you're a student, marine-life lover, retiree, golfer, or gardener, Victoria has something for everyone. Amazing museums and exhibits, gorgeous parks and trail systems, and an extensive waterfront.
Victoria is one of North America's most English cities fueled by a younger demographic. Victoria has more bicycling routes than any other Canadian city and is easily explored on bike, foot, or vehicle.
History
In the latter half of the 19th century, the Port of Victoria became one of North America's largest import destinations. With the completion of the Canadian Pacific Railway, Victoria's position is the commercial center of British Columbia was irrevocably lost to the city of Vancouver British Columbia. This didn't hold back Victoria, however, because of its natural setting and the opening of the popular Butchart Gardens in 1904 and the construction of the Empress Hotel, tourism boomed in the city.
The real estate and development progression slowed way down just before World War I and left Victoria with a lot of Edwardian commercial and residential buildings. This has added to the city's character over the years. Since WWII, Victoria has seen steady growth and is home to two major universities, the University of Victoria and the Royal Roads University.
Schools
The city of Victoria is within the Greater Victoria School District. There are 27 elementary schools, 10 middle schools, 7 secondary schools, and 4 alternative schools. The district covers the municipalities of Esquimalt, Oak Bay, View Royal and a portion of Saanich and Highlands. There are more than 1,000 international students and over 650 adult learners in the district each year.
Relocation Information
Employment
The best place to start looking for employment in Victoria is with the employment section in the
Times Colonist
newspaper.
Victoria also has a number of executive search firms, employment agencies, and to assist you in your quest for employment.
Transportation
Bus Service
BC Transit
provides local bus service from 6 a.m. to midnight, seven days a week. Many buses are bike rack equipped and offer accessible low floor design to carry two wheelchairs or scooters. BC Transit also offers handyDART, a door-to-door service for persons with disabilities.
Air Services
Victoria International Airport,
located at the north end of the Saanich Peninsula, offers services that link passengers to anywhere in the world including daily flights to many Canadian and US destinations.
Ferry Services
BC Ferries
carries up to 470 vehicles, including buses, (link to bus service below) and 2,100 passengers per sailing on its larger vessels. The ferry terminal at Swartz Bay on the mainland offers a direct route to Sidney, just 32 kilometres north of Victoria. In total, the BC ferry fleet makes more 100 daily crossings, to and from the mainland, linking Island motorists to Vancouver and mainland British Columbia to the east, Seattle and Washington State to the south and Prince Rupert and Alaska to the north.
Victoria BC Homes for Sale
There are literally thousands of homes in Victoria and not one alike. From simple cottages to massive mansions, Victoria has it all. Looking for a vintage or historical home? Maybe a condo on the water? Perhaps a little more land outside the city? You can find it here.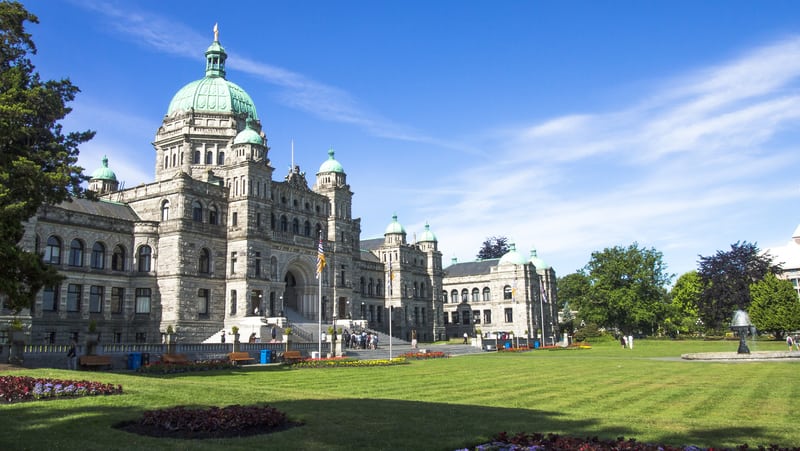 There are approximately 1800-2000 properties and listings for sale at any given time with prices all over the board. The median home price is about $700,000 with median condo price of about $338,000. But honestly, you can find homes for less than $300,000 and well over $3 million. Let me narrow that down for you.
With so many parks, outdoor beauty, things to do, gorgeous homes, and a wealth of attractions, it's easy to see why Victoria is Vancouver Island's shining gem. Are you ready to make Victoria your home? Give me a call today or start browsing listings on my website to get a feel for the real estate market.
The website is updated continuously so check back or simply contact me for a personalized list of homes that meet your search criteria and price.
Image By Brandon Godfrey [CC BY-SA 2.0 (https://creativecommons.org/licenses/by-sa/2.0)], via Wikimedia Commons | By Jeffery J. Nichols (User:Arctic.gnome) [CC BY-SA 3.0 (https://creativecommons.org/licenses/by-sa/3.0)], from Wikimedia Commons
Victoria BC Neighbourhoods
Victoria BC Homes for Sale