Oak Bay BC Homes For Sale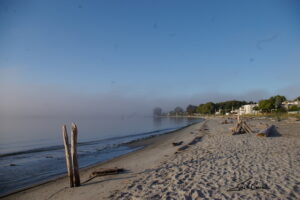 Oak Bay is a seaside community located in Victoria BC on the southern tip of Vancouver Island. It's a do East to downtown and is considered one of the 13 municipalities of Greater Victoria.
Oak Bay has been cited as one of the best neighbourhoods in Victoria and it feels like its own small seaside village. Oak Bay boasts old English style streets lined with galleries, pubs, restaurants, and shops. There are plentiful gardens, beaches, and parks and the Oak Bay Marina and the Royal Victoria Yacht Club are just a couple notable landmarks.
If Downton Abbey were set in Victoria it would probably take place in the Craigdarroch Castle, Oak bays notable landmark. This hotel features 39 separate rooms all exquisitely furnished in 1890s and 1900s of fashion. Nearby is 'the climb', an 87-step pathway leading to the top of the tower with breathtaking views of downtown, Oak Bay, and the Olympic Mountains.
Just down the street is the Oak Bay Village with old world charm, art galleries, artisan vendors, cafés, boutiques, and restaurants, many of them housed in historic Victorian-era buildings. The Oak Bay Marina is located on the waterfront home to a variety of private boats, restaurants and gift shops.
There are three golf courses in Oak Bay, Victoria Golf Club, Uplands Golf Club, and the Oak Bay Recreation Henderson Golf Course.
A little-known fact was that Oak Bay was known as the original "Hollywood North" during the 1930s when 14 films were produced between 1933 and 1938. These films included Hollywood stars such as Lillian Gish, Paul Muni, Sir Cedric Hardwicke, Edith Fellows and Charles Starrett. Films included The Crimson Paradise, Secrets of Chinatown, and Tugboat Princess just to name a few.
Real Estate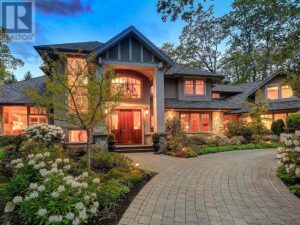 Oak Bay is home to several well-maintained homes and Gardens throughout the community and has strict structural and landscape requirements. The Uplands is home to some of the most expensive properties in all of Canada with century-old tutor style homes and waterfront properties.
The Uplands is prime a real estate community lining the waterfront. These charming neighborhoods, recreational options, and fabulous shops and restaurants make Oak Bay Victoria's premier destination.
For more information and details about Oak Bay homes for sale and real estate contact my office today.
Image By Fred Carver/, CC BY-SA 2.0, https://commons.wikimedia.org/w/index.php?curid=23310955 | By Waqcku at English Wikipedia, Public Domain, https://commons.wikimedia.org/w/index.php?curid=30481515
Oak Bay BC Homes for Sale

Sorry we are experiencing system issues. Please try again.