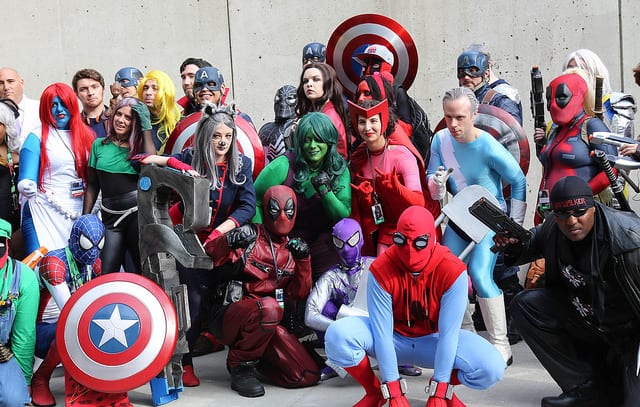 If you like to get your "geek" on once in a while then you won't want to miss this weekend's event. March 22 through March 24 at the Victoria Conference Centre and Crystal Garden is the Annual Capital City Comic Con. This convention is dedicated to comics, toys, games, science fiction, and more. There will be three days of panels, cosplay, vendors, autographs, and photo opportunities.
So, what is it? This is Victoria's pop-culture convention destination. You get to meet and greet your favorite sci-fi stars such as Garrett Wang, Jake "The Snake" Roberts, Knightmage cosplay, the magical and fantastical Dan Fogler, Skeet Ulrich, and villain fan favorite Malcolm McDonnell. If you like Star Trek, Marina Sirtis will be there for photo and autograph opportunities.
Epic Photo Ops will be at Capital City to capture your meeting with a celebrity. You can get your picture taken with your favorite stars or have a photo signing or both!
There will be amazing cosplay guests dressing up as their favorite comic book characters. Different guests and panels include Patrick Warburton, James Marsters, Graham McTavish, Mike Quinn, and many other comic book writers, entertainers, and guests.
But the celebrities are not the only reason to attend. There will be a lot of amazing attractions including 50 first a legion, the Ghostbusters of BC, Vancouver Island Ingress Players Association, medieval chaos, Dungeons and Dragons games, Nerd City Tattoo, a Lego exclusive activity, Warhammer 40 K tournaments, pinball leagues, and tournaments and scavenger hunts.
Special events include the Nerdlesque Show, called a cold sensation and taking Canada by storm. The Geekenders Nerdlesque wowing over 85,000 audience members in British Columbia loan. This is a tightly choreographed Vegas-style show seamlessly integrating the worlds of burlesque, geeks, drag, dance, and theater into their unique productions. Check out all the other unique events and productions going on at comic con
If this is your thing, you won't want to miss it this weekend! Tickets may still be available! Check it out now and get your geek on at this year's Capital City Comic Con.