A Current Map Showing Homes For Sale in Fairfield
The Fairfield/Gonzales neighbourhoods are located in the southern part of the city of Victoria and feature diverse natural features and many historic homes.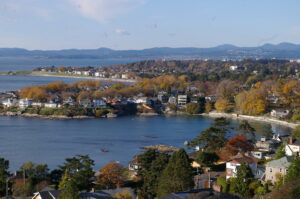 Fairfield/Gonzales is home to Cook Street Village, a lively and charming commercial area drawing many to its unique atmosphere and small local shops. This neighbourhood boasts a vibrant weekly summer market, and is home to the historic Ross Bay Cemetery, the last resting place of many of the region's founding fathers, and renowned artist Emily Carr.
The rich inventory of heritage homes on tree-lined streets, its many beaches including the picturesque Gonzales Bay, and proximity to downtown makes Fairfield/Gonzales a desirable place to live, work and visit.
Parks
The primary parks in Fairfield include the Eastern portion of Beacon Hill Park and most of the Dallas Road parks including Clover Point and Ross Bay Cemetery. Gonzales has two community parks (Pemberton and Hollywood). While both parks contain sports fields, Hollywood Park is extensively used for organized sports. Gonzales also has Gonzales Hill Regional Park and Abakhazi Gardens, a heritage garden managed by the Land Conservancy. Gonzales has the only suitable beach for swimming in the City, which draws residents from a wide area.
Schools
Fairfield/Gonzales is home to two public schools and two private schools:
Christ Church Cathedral School (private)
Glenlyon Norfolk Elementary (private)
Margaret Jenkins Elementary (SD61)
Sir James Douglas Elementary (SD61)
Gardens and Markets
Fairfield has one community garden and one community orchard, both located in Robert Porter Park.
The Moss Street Market takes place year round on Saturdays at the Sir James Douglas Elementary school grounds at Moss and Fairfield.